One of the best eSports betting websites of the current day and age, ArcaneBet has achieved great success over the years. And the timing was perfect as well. eSports betting wasn't always as huge as it is now so back in the day, it was much more profitable making bets in other sports such as football or basketball.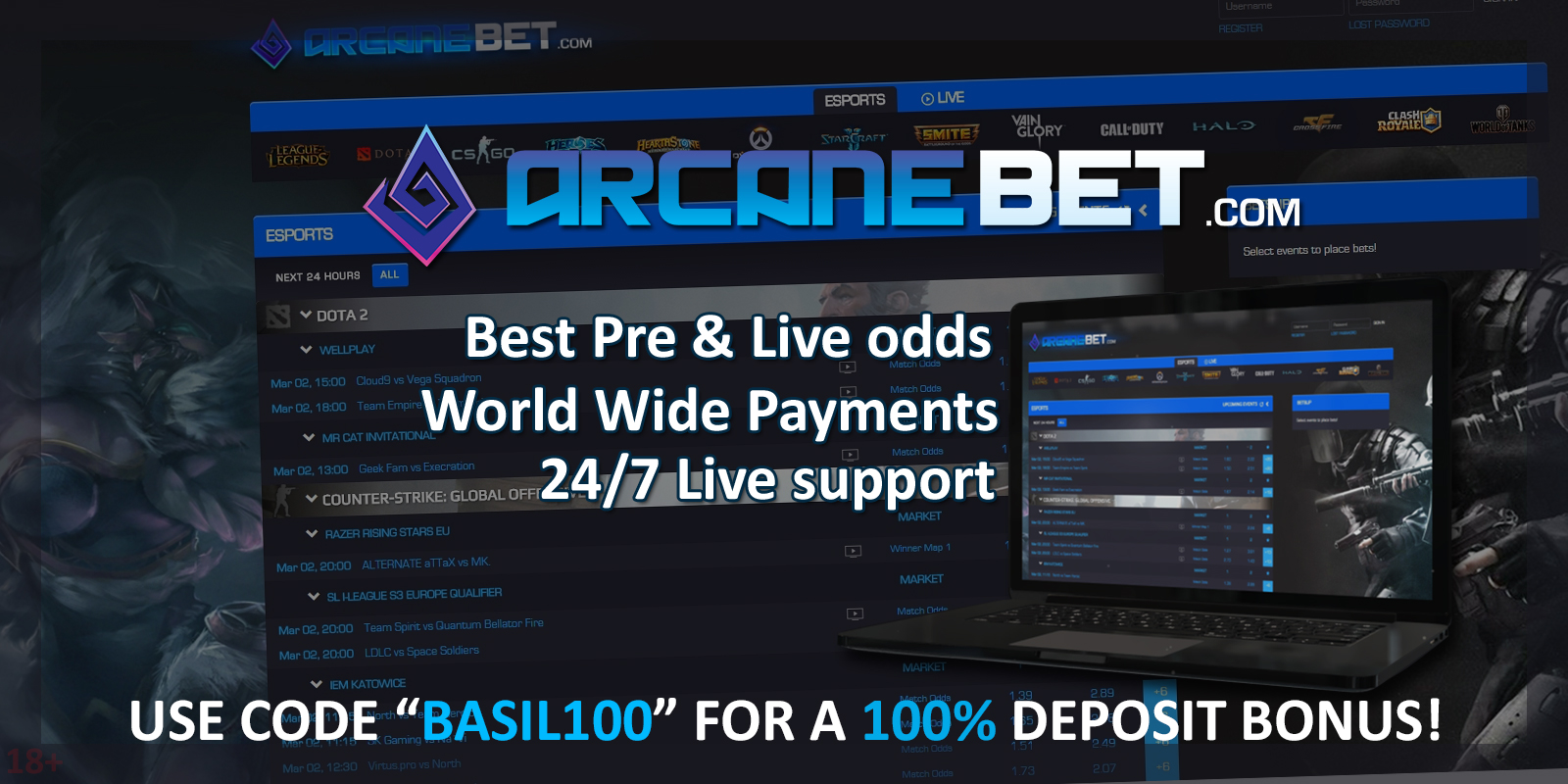 However, with the continuation of growth that eSports and eSports players have shown over the years, it became apparent that eSports betting is here to stay. I'm here to show you just how amazing this bookmaker is and why you should opt for it if you're an eSports enthusiast.
ArcaneBet Available Betting Types
Considering eSports tournaments from all games happen on the regular (including leagues and other forms of competition as well), a bookmaker oriented towards eSports must maintain and host a wide variety of betting types. This is fact.
If you don't have enough available choices, people won't exactly feel positive enough about winning to stay. However, ArcaneBet is quite the opposite. Not only are there plenty of betting types and options, but there are also plenty of games as well.
For example, CSGO betting options include match winner and winner map, both of which are effective betting options. Additionally, you may be able to bet on the group winner or tournament winner, and in some cases even the winner's group (ie. tournament winner is from group B). Outrights are ever-present and it's no different on ArcaneBet!
Other games may not have as many betting options, but there are still plenty to go around. In the end, ArcaneBet is packed with common betting options, and a couple of interesting ones, depending on the game and the tournament.
There are also Jackpots that require you to just start betting. You might have a chance to win some great prizes!

ArcaneBet Available Payment Methods
ArcaneBet is no stranger to hosting payment methods that are most used in today's world so it's only fitting we mention them here (to spare you the trouble). Basically, if you're an eSports enthusiast and have at least one credit card – don't worry. There's Visa, MasterCard, Skrill, Neteller, Paysafecard, Bitcoin, and SkinPay.
The last method I mentioned is one of the most interesting ones. Some of you might have already used it, but for those that don't know what it is – SkinPay allows you to bet Steam Items in the hopes of winning some for yourself. These can range from common items to very rare ones, but the technical details vary all the time.
This payment method is most common in CSGO where players bet their skins for new skins! You can find all this info by visiting the official website of ArcaneBet.
Bitcoin is another interesting payment method that's increasing in popularity as time goes by, so keep an eye out for it if you want to bet in Bitcoin!
Great Customer Support
The customer support over at ArcaneBet is worth some praise. They're quick and generally reply in an hour or two (when support isn't online) but the answers are all there. The people working at customer support are kind and helpful and they'll go out of their way to fix any issues you might be having.
You can contact them through E-mail or by phone, both of which are visible at the bottom of the website. The chat button is big and blue so you can't miss it. There's not much left to say except great job! Goes to show they take their customers seriously and want everyone to have the best time they can.
ArcaneBet Betting Licence
ArcaneBet is no slouch and they surely aren't a shady bookmaker. They've dedicated a lot of time into growing and perfecting their craft, and respecting the rules and regulations was part of that.
The company is based in Curacao and all licenses to ArcaneBet have been provided by the Government of Curacao. This means that, even though they're regulated by their government, things may be different with your own, so always check this information before placing bets.
On top of that, ArcaneBet is completely transparent and you can find everything related to the licenses and regulations by hopping over to their official betting website.
My Experience on ArcaneBet
I'm sure a lot of you will share my experience betting on ArcaneBet but it's fair to say something about it.
As an eSports enthusiast myself, my time there was flawless. Found everything I wanted within 5 minutes on the website and placed a couple of bets (all duds, unfortunately) to test their systems. The website is very responsive and quick, and the betting options are plentiful.
On top of that, I simulated an issue with my payment and got a response from customer support within an hour. The information they provided is detailed and it was evident that the customer support team is dedicated to helping you out completely.
Oh, and there are physical sports available as well, although the list isn't too long (which isn't unusual since ArcaneBet is mainly an eSports bookmaker).
Finding your Preferred eSports Bets on ArcaneBet
The process is relatively simple. As soon as you visit the site, a blue section at the top features all the available betting options regarding games and sports. And, the first choice is – eSports of course! However, you most likely won't have to click anything since their home address has the eSports category already open.

If not, simply click on the eSports button and voila! All the eSports tournaments you can want, right in front of you! Although, you get a shortened version of all available bets but you can click the 'View All' button to expand that section.
Placing wagers is easy but you will need an account to use the site.